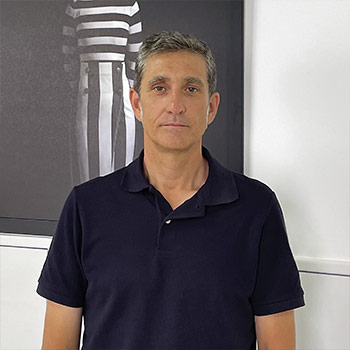 MIGUEL VALLINAS
The identity explorer
"It is important to bring out the animal found in all of us, as though they were real models."
MIGUEL VALLINAS
Born in 1971 in Medina del Campo in the Northwest of Spain, photographer Miguel Vallinas has been taking photographs for more than thirty years for business, television, and advertising. He trained at the School of Photography and Cinema (EFTI) in Madrid (where he still lives today). Parallel to his commercial activity, Miguel Vallinas develops personal artistic projects that earn him expositions in Hispanic galleries but also abroad, notably for the international Affordable Art Fair. He recently presented his series "Segunda Pieles" in London then in Hong Kong. His work is widely published in specialised press like Vogue, Vanity Fair, or The Guardian. An accomplished artist, he finds inspiration in a wide variety of subjects, including contemporary architecture, urban landscapes, or portraits.
...
See more
See less
Interview
Why photography?
I've always had an artistic vocation, Although I didn't know what I wanted to be. My attention has been aroused since I was a child, and surely I wanted to emulate them. I love reading, but I am ominous writing From an early age I like photography, and painting, and illustration and cinema I have always liked music. I chose photography because I was painting and had no patience to see my finished paintings. Photography gave me a lot of creative freedom and very instantly. I used a camera that had been given to my brother and he never used it. Even more than taking photos, I liked to reveal them in the laboratory. My father built a laboratory at home for me and there was a lot of time in there. When I was 17, I decided that I wanted to be a photographer and that is how I found my way of telling others things. This has conditioned the rest of my life. My academic studies, my hobbies, my works It doesn't matter if I wasn't too good at first. I've always wanted to show my work So I have exhibited my photographs from day one. In cafes, bars, premises for municipal use, improvised exhibition halls ... I have had many jobs directly related to photography. Social photography, laboratories, photographic stores, and editorials. I have also worked in television. And I've always had a personal photo project started. I have studied photography, although my best school was an advertising photography studio where I worked for six years. Basically we made photographs for catalogs of furniture manufacturers. It was fun and above all very instructive. I made my photographs from scratch. I did it all. Design the space and build it. Mount the entire room on the set. Floors, windows, walls. Make the decoration, illuminate it, photograph it and reveal the large format slides in our laboratory. Here I learned a lot about photographic language, to work with large format cameras and especially I learned lighting. A few years ago I had to make a decision. I didn't have enough time to attend to my professional photography and my artistic photography. The decision was risky, but easy. Since then I dedicate all my time to my personal work.
Your inspiration?
In my facet of artistic photography, my work has always been very influenced by painting, so I have always pretended that photography had a very pictorial style. Surrealist painters such as Magritte, Salvador Dalí, Marc Chagall, Yves Tanguy, René Iché ... have inspired my latest collections. Surrealism in my work is the consequence of a creative process that has brought me here.
What is unique in your photographs?
My photographs are unique because they are the result of various paths that I have been choosing in photography. I have not looked for a way to take photography, but photography has shown me the way. My current photography is very surreal and this is influenced by the painters I always liked, but the way to do it is the end of a process. My first works had nothing to do with surrealism and were based more on reality as an object. The landscape, the architecture, the true portrait of reality have been the object of the first works. My obsession with the staging of the photographs, the technical resolution, the previous study of the taking and the constant flight of the instant photography, have conditioned my work to bring me little by little and without realizing to find my method and personal style . I have never been a camera photographer hanging from my neck. I am not an action or instant photographer. I never carry the camera with me. I prefer to look, build the image in my head and then return with what I need, and make the last shot calmly. I like to have everything controlled. Although my first series do not resemble my latest collections, my way of working has always been the same. I am a photographer obsessed with technical work and as impeccable as possible when taking photographs. It controls every fold that makes the clothes and how the light attracts the compositions. I have gone through different stages and some like to come back, but "I am always taking a step forward." This has led me to surrealism in my photography. As a result of the previous work, I barely noticed and progressively.
The context of creation of your new series
The Suppen collection (Soups) explores imaginary worlds that arise before our gaze, focused on an everyday action in which so many times abstraction arises, which evades us and moves us to other places. Confetti soup, soap soup, sea soup, letters, wool, world, of island, cloud and rain, are some of the titles we find in Suppen (Soups) As in previous collections, this is conceived as a series that It extends unlimitedly, just like imagination and creativity. Suppen (Soups) recreates everything we store in our memory, that we want, that we feel or imagine, a world that we face we and that we observe from nostalgia or illusion. The photographs belonging to this series are configured under some premises Compositions that follow each other in all the images. Thus, they are composed basically of the essential elements in a soup, a plate and a spoon. It is intended to create a subtle environment that emphasizes the history that is It develops in the soup. The name that gives title to the collection, Suppen, refers to the origin of the soup, western Germanic, and at the same time is presented in another language that happens to previous titles like Second Skins, Ceci n´est past or You are, in order to create a universal context.
Any anecdote for us?
When I started photographing artistic collections, many years ago, I had two collections in mind. One that was called Mattresses and that I finally made in 1999. The other was one about soups. The road took me to other places but now 21 years later Suppen has finally left my head and is taken pictures.
The picture you would have loved to shoot?
I would have loved to be a travel companion in the western United States by Richard Avedon. Together with our Roleiflex. I would have liked to look for such special models for my photographs and have shared it with him.
The latest prizes / awards / prides you got?
My best prize is to be able to dedicate working time to creative photography. This is an award that I have finally won after many years combining it with other activities. Every day I work to continue taking the photographs I want. When I receive a message from someone whom my photography has inspired, or to a buyer who is happy to have a work of mine I receive it as a real prize. Win some architecture photography awards a long time ago. I also like to take this type of photography even if these are not very well known. I use architecture photography as personal enjoyment.
Your next projects?
I have some ideas. I want them all to become new collections. Ideas are not missing. I am working on some, but I am thinking which of all will be the one that occupies my time 100% in the coming months. Soon I will be moving to my new studio. The one I'm building for a while now. I want it to be where I get the inspiration of where to continue. Behind an idea there is a lot of work time. I have many ideas and I want time to do them all and share them. I would like my work to remain of interest to others and continue to expand my circle and reach more people. This is a daily job.
Any crush on a YK picture?
I like many photos of the Yellow Corner Gallery. This is why I find it difficult to highlight some concrete because I don't want to stop saying many that I love. For example I really like Aurelien Vilette, precisely because architecture photography is my favorite. I also really like the compositions of Yang Bin that are authentic paintings. And many others ... Kurt Arrigo, Luis Aguilera, Maria Svarbova, Nicolas Bets, Romina Ressia ...
...
See more
See less