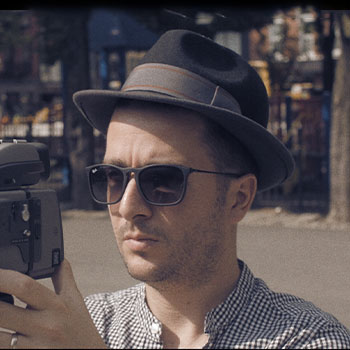 Architecture is everywhere, in every city, from megalopolises to the tiniest of villages, I photograph architecture because I am passionate about the act of documenting buildings, interiors, and the soul of a neighbourhood with my eyes.
FRANCK BOHBOT
Interview
Why photography?
Because I can mix my passions, Cinema, Architecture, Landscapes and create my own language.
Your inspiration, especially artistic ?
Music inspires me a lot, and my inspirations evolve, according to my meetings and travels, I like to renew the genres and be in movement. The work of Fred Herzog speaks to me a lot, he left a few weeks ago, a great photographer like William Eggleston and others.
The photo you wish you had taken?
"Case Study House #22" by Julius Shulman, http://100photos.time.com/photos/julius-shulman-case-study-house-22 Julius Shulman's work and genius is to have succeeded in moving architectural photography from a corporate status to that of art photography. For the little anecdote, in 2009, I started photography, and I do not know why, I typed on my search engine, architectural photography ... and I came across several articles talking about Julius Shulman, as the Father of this movement, we were on July 16, 2009, the day of his death, that's the day that everything began for me, and my architectural and urban explorations took shape in trying to create my own style.
Your next projects?
Lots of them! I am finishing 4 projects here in California, this year has been very dynamic and interesting for me
Your favorites YK
Lee Jeffries, his work speaks to me a lot, especially living in Los Angeles, it's impossible not to see the homeless, the crisis (Homeless Crisis) is huge here, and the way he sacralizes them and gives them life through his portraits is simply unique. because they are very often ignored unfortunately.
...
See more
See less