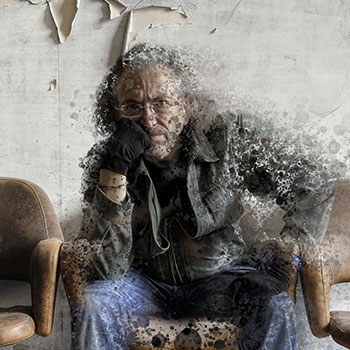 "I am particular sensitive to architecture. The talent and engineering deployed by people in service to a cause fascinates me. Pushing back the limits of balance and aesthetics, taming light and space."
FRANCIS MESLET
A graduate in Design from the École des Beaux-Arts de Nancy in 1986, early in his career Francis Meslet was a designer, but soon turned to advertising when he joined several advertising agencies as an artistic director. After 30 years spent questioning the creative concept and studying images in all his compositions, he is now a creative director. Francis Meslet wears several hats; he is notably a renowned photographer who does not hesitate to roam the world in his spare time, searching for abandoned sites, sanctuaries where time seems to have stopped after humans have evacuated them. He thus brings back captivating and melancholic images of his travels to the other side of the world.
...
See more
See less
References
Exhibitions
Trieste Photo Days / Urban 2019
Musée Sartorio, Trieste, Italie (22 octobre au 10 novembre 2019).
France, Nancy
Médiathèque Manufacture, Maison de l'Architecture, France (novembre 2019).

Switzerland, Geneva
Galerie Cyril Kobler, Genève, Suisse (3 septembre au 25 septembre 2019).
France / Barro / Festival Barrobjectif
Festival Barrobjectif, France (14 septembre au 22 septembre 2019).
France / Festival Photo de Dax
Festival Photo de Dax, France (1 juin au 21 juillet 2019).
USA / Greensville / SE Center for Photography
Juin 2019.

USA / Canada - The Fence 8th Edition
- Exposition collective du 8 juin 2019 à 2020.
- New York, Brooklyn - Brooklyn Bridge Park
- Houston, Texas - Memorial Park
- Washington, Waterfront Seattle
- Boston, Massachusetts - SoWA
- Saratosa, Florida - Nathan Benderson Park
- Atlanta, Georgia
- Denver, Colorado
- Calgary, Canada
Interview
Can you tell us a little more about yourself?
I am a 56 year old French creative director. My job is to come up with creative concepts and refine the Graphic Design for my clients. I studied at the Beaux-Arts de Nancy in the 80s. I have held several art director positions in various agencies over the last 30 years. I came back to photography to find more space for creative freedom.
How did you get interested in photography
Photography was part of my education but I was much more focused on graphic design and illustration at the time. I came back to photography 10 years ago. After retouching images of other photos for several years, I said "it's time".
What inspires you in your research?
I try to photograph many types of places abandoned by man. It goes from industrial wastelands, to religious heritage through public buildings, castles and villas ... etc.. It is in the course of my explorations that I started to group my shots in different photographic series. It is absolutely fascinating to enter a place where the occupants have left their mark behind: their personal objects, their furniture, the trace of their habits... sometimes a life. When pushing the door of one of these time capsules, one cannot help but wonder and refer this show to what will be our own sphere of life when we are gone.
What was the most difficult part of this project?
This type of work has several parts, each with its own difficulties. Everything that is addressed in the research... dozens of hours of research and perseverance on the Internet to arrive at this place of interest. Then comes the time to prepare the visit. Evaluate the danger of the place, the difficulty to reach it and to move there without danger. To compose with the light of the moment and the often dark places. I always work in natural light and I work with the position of the sun at the time of my visit. If the light is really oriented, it is possible that I come back another time, at another time of the day to benefit from the light more favorable to my project. Not always easy to manage when the places are located abroad, several hundred kilometers away.
How would you define your general style of photography?
I try to stay as close as possible to reality. To transcribe as faithfully as possible the feelings, the emotions I had during the visit. In this sense I would say: impressionist... but realistic.
Can you tell us about your technique and your creative process?
What to say. I always work in natural light. This requires the use of a tripod and sometimes very long exposures, up to several minutes if it is very dark. When I arrive in a place, there are of course a few very obvious shots to do that are repeated. Then, I work a lot on instinct and feeling. I move according to the ambient light. I don't touch the objects that are present in a room. Unless, exceptionally, the place has been vandalized. I then try to find the place of the furniture such as they were. Concerning the treatment of the images, it is in perpetual evolution. When I look at the images I processed 3 months ago, I think to myself, my god... I don't work like that anymore. I have to say that as time goes on I do less and less work on the settings. Most of the work consists of erasing graffiti or making a discarded soda can disappear on the floor. Photoshop, I fell into it since version 1.0 in the 80s. In my job, I've been working on a computer all day long since the first Macintosh. I've had the advantage of mastering the digital image workflow for a long time. I use Lightroom to catalog and process my photos and go back and forth with photoshop when necessary.
In your opinion, what makes a good photo of an abandoned place ?
A good photo is first of all a good light. Arriving at the right time. To place yourself correctly. Seize the particularity of the place in its architecture or its organization. Restore as well as possible the atmosphere of the abandoned place thanks to the materials. To know how to locate and capture the traces that allow to give an account of the state of abandonment and the trace of time that has passed on this place, like wrinkles on a face.
How long do you spend preparing a photo?
It varies. I can spend 30 minutes setting up my tripod, choosing the best angle, changing my settings... I can also shoot very quickly in a few seconds. It depends on my mental freshness and what a place inspires me.
What do you think makes a project memorable?
A memorable project is one that is remembered by definition. A project that leads the viewer to ask questions and to find his own answers. A project that arouses an emotion, whether it be attraction or rejection.
When do you know you have the right photo?
I know I have the shot I wanted the moment I look at my photos on my computer at home. Of course, when I do the shoot, I do everything I can to make sure that I don't miss the shot. It is also necessary to know how to take risks and to make risky experiments. I keep in mind the image of what I saw and felt. I have sometimes had very good surprises but also some disappointments on views in which I had placed a lot of hope and which turned out to be without interest.
Your idea of the perfect composition?
There is no "one" perfect composition. Everything depends on the moment, the place, the light... There are several possibilities each time. But if I absolutely have to give a definition, the perfect composition is the one that will allow the "viewer" to enter and travel in the image as easily as possible.
What can we find in your photo bag?
Too many things. I remember the weight of my bag on my shoulders when I spend 14 hours on my feet taking pictures, walking, running, climbing, crawling, climbing... my bag is always too heavy. There is of course a 24x36 full frame Nikon D750 camera, a Nikon 14-24 f2.8 lens, a Nikon 24x-70 f2.8 lens, and an IRIX 11mm f4. Sometimes a 50mm f1.4, chargers, batteries, cables, flashlights, cereal bars and a water bottle... toilet paper and a bunch of other stuff I keep for myself.
What are your plans? What would you like to accomplish?
My future plans I keep to myself. We are in a world and time where urban exploration photography is very, "too" fashionable. With the success of social networks, images circulate very quickly. We often see infinite replicas of some images we made a few months or years ago. So the more discreet you are about your projects, the better. What is certain is that I will continue to explore abandoned places around the world. Less and better according to my availability, my means and my desires. To make other books, to prepare other exhibitions and especially to try to touch an uninformed public. It is this public that interests me. The majority of the community of what is called "urban exploration" is busy, most of the time, measuring themselves against the greatest... I am past the age of this kind of competition. I want to touch ordinary people, to make them think about the iconographic content, the message of an image. In this particular case, I don't really care about the sporting or transgressive performance.
...
See more
See less