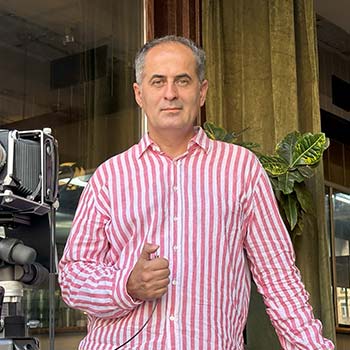 RUSLAN LOBANOV
The maestro of nudity
"Nothing is more revealing than nudity, even when it's dressed."
RUSLAN LOBANOV
Interview
Why photography?
It's a kind of magic when you can catch the moment and the atmosphere in one picture. I would always love to be a magician. It's like storytelling without words.
Your inspiration?
Great people, good music, and traveling are always a great source of inspiration.
What is unique in your photographs?
The balance between analogue technologies, cinematic photography from one side, and modern tricks (like AR technologies from the other side)
Any anecdote for us?
Once I've asked my mother to help us with transportation of the props to our location in Italy (leather masks, sexy dresses, a lot of erotic outfits). She traveled by car. When my mom was crossing the border, she was asked about her aim of visiting. She's not so good in English, so she said that she's going to her family in Italy. The policemen checked the stuff in a car and just wished my mom a great family party. (So now we have a special name for all our stories with sexy outfit - Family Party).
The picture you would have loved to shoot?
Oh yes, there's a very special place in France not far from the chateau where we are shooting. It's called the Passage de Gois or Goa. It's a natural, periodically flooded passage leading to the island of Noirmoutier in France. For 8 years we have been planning to shoot a very romantic story there, but all the time it's either rain or low water, etc. So, maybe next year ;)
The latest prizes / awards / prides you got?
Well, it should be an Honorable Mention in "The Color Awards"
Your next projects?
The next project in print is Havana Affair (the compilation of works from Cuba, that we were shooting for 8 years0.
Any crush on a YK picture?
I like the nostalgic atmosphere in photography, so Slim Aarons is my choice.
Your motto? In art nude photography
less is more.
...
See more
See less